Key Murray Law was pleased to sponsor the Small Business of Excellence award.
The year's winner was Caseley's Painting which started in 2013 with a Honda hatchback and a Facebook page.
In three years, the painting company has a long list of satisfied customers and a growing list of contractors and developers. When David Caseley started, most of his work came through referrals, and word of mouth. His unique sense of humour on social media has led to new customers and clients.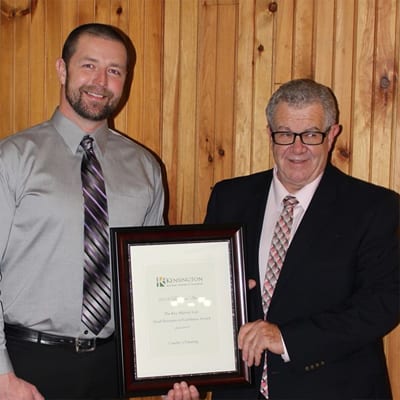 Pictured is Ken Clark, counsel at Key Murray Law's Summerside office, presenting David Caseley with the award.
Small Business of Excellence Criteria:
Demonstrates continual business excellence through positive business growth; exemplifies superior customer service; embraces an outstanding commitment to quality; demonstrates exceptional commitment to its employees; demonstrates vision in the development of new technologies, products and/or services. For businesses with less than 10 employees.
Key Murray Law would also like to congratulate the other award winners:
Best Website Award
Kitchen Witch Tearoom and Crafts and O'Neil Home Gallery (Tie)
Community Impact Award
Malpeque bay Credit Union
Employee of the Year Award
Ambyr Clark, Malpeque Bay Credit Union
Best New Business Award
Island Stone Pub – Kensington Station
Business of Excellence Award
Vector Aerospace
---
For more information about Key Murray Law, please contact one of our three Island locations.
---
Legal information appearing in this article and elsewhere on Key Murray Law's website is intended for informational purposes only and is not intended to substitute for or replace any legal or other professional advice. If you have specific concerns or a situation in which you require legal advice, you should consult directly with one of our lawyers.